About the 2F Engine
The Toyota F series engine was a series of OHV inline-6 cylinder engines produced by Toyota between 1955-1992. They are known for their high amount of torque at low RPM, massive cast iron blocks and heads and also their high reliability. The F Engine had one of the longest production runs of any Toyota engine. The F engines all incorporate overhead valves actuated by pushrods from a gear driven camshaft in the lower portion of the engine. The engine was first introduced in the Land Cruiser, and in many countries, was the only engines offered in the Landcruiser until 1993. Although it's commonly badged as the Land Cruiser engine, it was used in a variety of other large truck applications as well, such as in fire trucks and the Toyota FQ15 trucks. It was also used in the Crown based Japanese Police Patrol Cars FH26 and FS20-FS50.
2F
2F Manufacturer Toyota
Production 1975-1988
Predecessor F
Successor 3F/3F-E
Displacement 4.2 L (4230 cc)
Cylinder bore 94 mm
Piston stroke 102 mm
Compression ratio 7.8/1
Fuel system Carbureted
Fuel type Petrol
Power output 93 kW (125 hp)
Torque output 271 N·m (200 ft·lb)
The second version of the engine, called the 2F, was introduced in 1975. There are a few differences between the F and 2F, i.e., a larger bore in the 2F, removing one oil ring and forcing the oil to travel through the oil filter before the engine.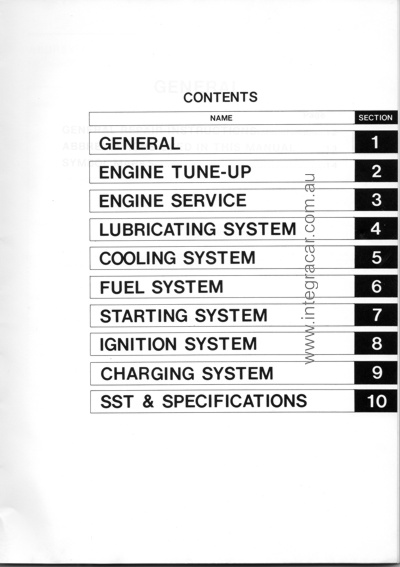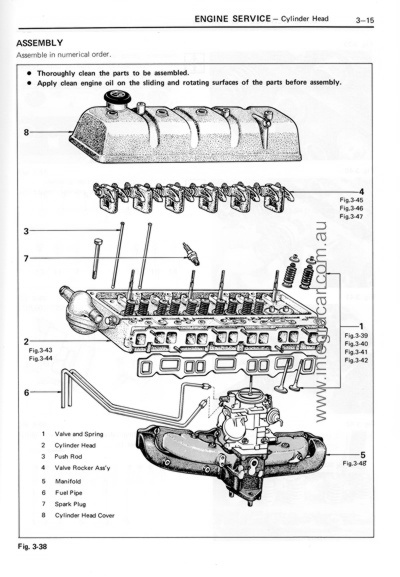 ---
| | | | | |
| --- | --- | --- | --- | --- |
| BORE | STROKE | FIRING | MAIN | ROD |
| | | ORDER | JOURNAL | JOURNAL |
| 3.7010 | 4.0000 | 1-5-3-6-2-4 | See Below | 2.126 |
| SPARK PLUG | SPARK PLUG | DISTRIBUTOR | IGN.TIMING | OIL CAPACITY |
| TYPE | GAP | GAP | IDLE SPEED | WITH FILTER |
| W14EX-U | .028-.031 | 0.012 | 7 deg.BTDC/750 | 8.2 U.S.qts. |
| | | TORQUE VALUES | | |
| LOCATION | FT. LB. | | LOCATION | FT. LB. |
| Main brg.caps | #1-3(108) #4(94) | | Oil pan drain plug | |
| Rod brg.caps | 35-54 | | Oil pump bolt | |
| Cyl. head bolts | 84-97 | | Rocker arm nut | |
| Cam sprocket bolt | | | Rckr.shaft brckt.bolt | 10mm(32) 8mm(21) |
| Crank pulley bolt | 116-144 | | Timing cover | |
| Flywheel bolt | 58-79 | | Spark plug | |
| Flywheel housing | | | Water outlet bolt | |
| Manifold bolt & nut | 29-36 | | Water pump bolt | |
| Oil pan bolt | 53-104 in.lbs. | | Wtr.pmp.pulley bolt | |
| | | PISTON | | |
| Diameter | 3.6992-3.7012 | | Cyl.bore clearance | .0012-.0020 |
| Pin fit @ 68 deg.F | .0003-.0005 | | | |
| | | RINGS | | |
| Ring gap-Top | .0079-.0157 | | Side clearance Top | .0012-.0028 |
| Ring gap-2nd | .0079-.0157 | | Side clearance 2nd | .0008-.0024 |
| | | | | |
| | | CRANKSHAFT | | |
| Main journal dia. | 2.636/2.695/2.754/2.813 | | Rod journal dia. | 2.1252-2.1260 |
| Main run clearance | .0008-.0017 | | Rod run clearance | .0008-.0017 |
| | | | | |
| | | CAMSHAFT | | |
| 1st journal dia. | 1.8880-1.8888 | | 4th journal dia. | 1.7108-1.7116 |
| 2nd journal dia. | 1.8289-1.8297 | | | |
| 3rd journal dia. | 1.7699-1.7707 | | | |
| | | VALVES | | |
| Intake length | 4.913 | | Exhaust length | 4.921 |
| Intake stem dia. | .3138-.3144 | | Exhaust stem dia. | .3134-.3140 |
| Intake head dia. | | | Exhaust head dia. | |
| Intake face angle | 45 deg. | | Exhaust face angle | 45 deg. |
| Intake clearance | .008 hot | | Exhaust clearance | .014 hot |
Toyota 2F Engine Repair Factory Manual USED